Notice
THE SURGERY IS CLOSED ON
WEDNESDAY 19th JANUARY 22 FROM 12:30 FOR TRAINING.
ALL REQUESTS FOR APPOINTMENTS, REPEAT PRESCRIPTIONS, BLOOD RESULTS AND ROUTINE MATTERS SHOULD WAIT UNTIL THE SURGERY OPENS AGAIN THE FOLLOWING MORNING AT 0830 HRS.
IF YOU NEED A DOCTOR IN AN EMERGENCY WHICH CANNOT WAIT UNTIL THE SURGERY IS OPEN AGAIN PLEASE RING
1-1-1
AFTER 1830 HRS ALL CALLS SHOULD GO TO 1-1-1
Blood Tests - Stoke Mandeville Hospital
Please note you can no longer turn up to a walk in clinic for blood tests ans Stoke Mandeville Hospital.
You can book an appointment online here.
Patients referred for an adult blood test can choose time and location and avoid overcrowding the waiting area.
Any patient arriving without a pre-booked appointment will be turned away and given details of the online booking system.
Patients without access to the internet and don't have any relatives or friends to assist with the online booking can use the volunteer support phone line 07929 831150 - this is NOT a general helpline.
Clinics will run as follows:-
Amersham Hospital 08:30 -15:00
Stoke Mandeville Hospital 09:15 - 16:45
Wycombe Hospital 08:00- 17:00
An Update on Restrictions Lifting
Please see our full update on the new restriction rules in place from 19/07/21 and how we are running the surgery in order to continue to keep everyone safe.
Booking a Covid Vaccination Booster Appointment
We are now sending text messages to patients who had their second Covid jab over 3 months ago to invite them for a Covid Booster.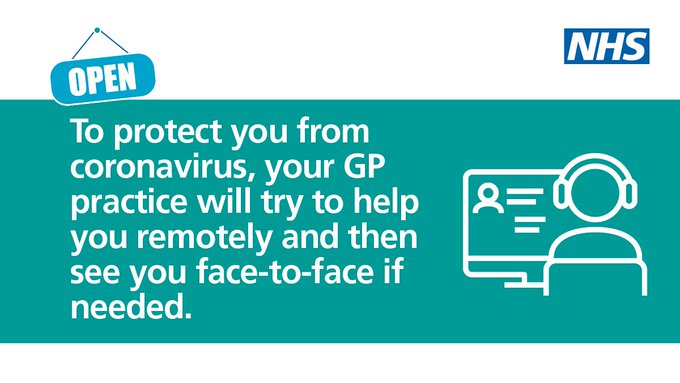 Appointment System
NHS England has advised all GP practices to use a system called "total triage". All patients will be assessed on the telephone first – "talk before you walk". Many of our patients will be familiar with triage as we have used this successfully for many years to assess the best way of meeting patients' needs based on clinical priorities. A telephone call with a GP may result in an invitation to come to the surgery for a face to face appointment if clinically necessary – something we have provided throughout the pandemic. But it could also result in a video consultation, the organisation of tests, advice or treatment over the phone or referral to another service. By triaging all requests from patients, we can ensure that people are only asked to come to the medical centre if their needs cannot be met in another way. This is important in protecting our vulnerable patients and our essential staff from the risk of infection.
When you ring the surgery, the receptionist will ask a few important questions. Our receptionists are there to help you by directing your call to the right member of the team and with the right level of priority. As you expect, all our staff follow strict rules of confidentiality. A GP will always ring you back on the same day if your problem is clinically urgent. If your problem is routine, we will offer an on-the-day telephone appointment if we can but a routine telephone appointment in the future if we are fully booked for that day or you prefer that.
Our nursing team continue to provide a full range of childhood immunisations. We are also offering smear tests so please get in touch if you have received a letter saying that your smear test is due. The nurses' highly skilled work of managing patients with leg ulcers and complex wounds has continued as normal. They are also currently very busy providing flu vaccinations to our most vulnerable and high-risk patients. This process has been challenging due to country-wide problems including unprecedented demands and insufficient supplies of the vaccines nationally. We have also continued to take blood tests. Due to the precautions needed to protect our patients and our staff, each blood test appointment is taking about twice as long as usual. This means that we can only offer half as many tests each day as normal. It is vital that we keep a certain proportion of these blood test appointments available for emergencies and those with suspected cancer or other serious illnesses. We are doing all we can to provide more appointments, but please be aware we will not be able to offer our usual number of routine blood test appointments at this time.
We continue to be very busy dealing with COVID-19 issues, non-COVID urgent problems, routine problems, trying to help with the backlog over the last six months and playing our part in the biggest flu vaccination programme in history. We are grateful for the incredibly hard work of our team over the last six months and thank our patients for their support and understanding over this very difficult time.
Access to the Surgery
Please only come to the surgery if you have a booked appointment or have been instructed to do so by one of the team. You are also able to put your repeat prescriptions in the box in the foyer.
To enter the surgery please press the bell in the foyer and reception will then let you in.
For any queries, please call our reception team on 01844 293300.
The COVID-19 pandemic - help us to help you.
We are working very hard at Haddenham Medical Centre to find the best ways to care for our patients during this new Coronavirus pandemic. To do this we need to protect both our patients and our staff.
What is the current situation?
We are already seeing a large increase in workload with many more phone calls coming into the practice and more requests for repeat prescriptions. The local hospitals are under pressure and this is having a knock-on effect on us. At the same time, healthcare workers recognise that they are at increased risk of infection due to repeated contact with the public so we must also plan for staff absences to keep everyone safe.
What are we doing?
We are meeting regularly as a team to review the service we can provide. We have clear plans for managing various possible scenarios. In line with Government guidance, we are concentrating on providing urgent care and so we are expanding our successful telephone triage system for patients who feel they have an urgent problem. Consequently, we will be suspending routine health checks and monitoring. You might find that some systems that you are used to using at the surgery, such as the touchscreens and automatic blood pressure monitor, will not be available. We are doing everything we can to reduce infection risk.
How can you help us?
Please use our service responsibly and be a 'patient' patient considering the added pressures under which we are all currently working. Do NOT enter the surgery if you have a fever or a new, continuous cough – this will put other patients and our staff at risk. Use the 111 online service (or ring 111 if unable to use this) if you are worried about having the new Coronavirus. Use our online Patient Access system as much as possible – for example, for ordering repeat prescriptions and checking results. Repeat prescriptions may take longer to process at this time.
How can you help yourselves and each other?
Continue to wash your hands regularly. Please follow the NHS advice given even though this may be difficult. Take care of the elderly and those vulnerable in our community – make phone contact with them regularly and offer help if you can. Be wary of online sources of information and limit your time on media sources if you are feeling anxious. Stick to reliable sources of information such as the NHS website. Be kind to each other and keep safe.
We will be updating our website and coordinating with our Patient Participation Group as often as we can. For those with access, our Facebook page will be quickest and easiest way for us to keep you informed (https://www.facebook.com/HaddenhamMedicalCentre).
Welcome to the Haddenham Medical Centre
Welcome to the Haddenham Medical Centre Website.
We hope you take your time to browse our website where you will find lots of useful information about the surgery and the services we offer.
We are proud to be a long-established training practice and as part of our teaching commitment, doctors from other practices occasionally visit the health centre to assess the standard of our records and the care given.
We are all committed not only to help train new health care professions, but to continue the development of our own knowledge and skills. To that end, we regularly have clinical and whole-team meetings for education as well as to cover business and administration matters.

Facebook Updates
To stay informed with all the latest news and practice updated please follow our facebook page, this is regularly updated with everything our patients need to know.