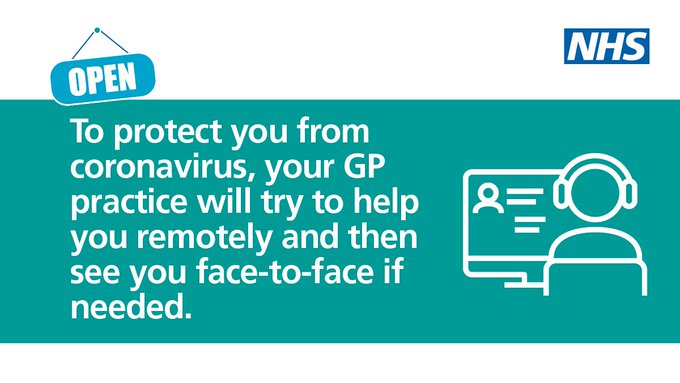 Appointment System
As restrictions for COVID-19 are likely to be in place until April 2022, we wanted to let you know how our appointment system will work over this time.
NHS England has advised all GP practices to use a system called "total triage". All patients will be assessed on the telephone first – "talk before you walk". Many of our patients will be familiar with triage as we have used this successfully for many years to assess the best way of meeting patients' needs based on clinical priorities. A telephone call with a GP may result in an invitation to come to the surgery for a face to face appointment if clinically necessary – something we have provided throughout the pandemic. But it could also result in a video consultation, the organisation of tests, advice or treatment over the phone or referral to another service. By triaging all requests from patients, we can ensure that people are only asked to come to the medical centre if their needs cannot be met in another way. This is important in protecting our vulnerable patients and our essential staff from the risk of infection.
When you ring the surgery, the receptionist will ask a few important questions. Our receptionists are there to help you by directing your call to the right member of the team and with the right level of priority. As you expect, all our staff follow strict rules of confidentiality. A GP will always ring you back on the same day if your problem is clinically urgent. If your problem is routine, we will offer an on-the-day telephone appointment if we can but a routine telephone appointment in the future if we are fully booked for that day or you prefer that.
Our nursing team continue to provide a full range of childhood immunisations. We are also offering smear tests so please get in touch if you have received a letter saying that your smear test is due. The nurses' highly skilled work of managing patients with leg ulcers and complex wounds has continued as normal. We have also continued to take blood tests. Due to the precautions needed to protect our patients and our staff, each blood test appointment is taking about twice as long as usual. This means that we can only offer half as many tests each day as normal. It is vital that we keep a certain proportion of these blood test appointments available for emergencies and those with suspected cancer or other serious illnesses. We are doing all we can to provide more appointments, but please be aware we will not be able to offer our usual number of routine blood test appointments at this time.
We continue to be very busy dealing with COVID-19 issues, non-COVID urgent problems, routine problems, trying to help with the backlog over the last eighteen months. We are grateful for the incredibly hard work of our team over the last eighteen months and thank our patients for their support and understanding over this very difficult time.
Usual Working Days for Doctors
| | | | | | |
| --- | --- | --- | --- | --- | --- |
| Doctor | Monday | Tuesday | Wednesday | Thursday | Friday |
| Dr Mark Howcutt | ✓ | | ✓ | ✓ | ✓ |
| Dr Nicola Wells | ✓ | | ✓ | ✓ | |
| Dr Kaiser Munir | ✓ | ✓ | ✓ | ✓ | ✓ |
| Dr Karen West | ✓ | ✓ | | | |
| Dr Briony Rixon | | ✓ | | ✓pm | ✓ |
| Dr Louise Thompson | | ✓ | | ✓ | ✓ |
| Dr Caroline Morley | ✓ | | ✓ | ✓am | |
GP Telephone Assessment
GP telephone assessment is a national system that has been developed and tested by the NHS Institute. The evidence shows that of all the requests for appointments, only approximately one third actually need to see a GP, one third needed to be seen by another member of the primary healthcare team (usually a member of the nursing team) and one third do not need to see anyone – the issue can be dealt with over the telephone.
This system will enable us to run more efficiently, better manage the demand for appointments and will ensure that those who need to see a GP should find it easier to be seen. The system should run more effectively for patients and the practice ensuring that the best service is accessed for each patient dependent on clinical need and assessment.
Previously, obtaining a face-to-face day only appointment depended on either waiting in the phone queue or coming to the surgery first thing in the morning. This system will ensure that everyone who wants an appointment will have a GP consultation but accessing a face-to-face appointment will be based on the need to see a GP rather than how quickly a patient can get to the phone each morning.
Since all appointment requests will initially be assessed by a GP, the GP can make a clinical assessment as to how quickly a patient needs to be seen and can book the appropriate appointment. For most patients this will continue to be on the same day but for a few patients this may mean a few days in advance. This may be particularly useful for patients who work. A request for a GP assessment call can be made with reception. When the GP calls they can discuss urgency vs convenience and agree an appointment time.
We have built into the surgery session a number of telephone assessment slots throughout the day. Patients will be able to request a specific GP to call them back if the GP has availability. Our aim is that this will happen whenever possible but we cannot guarantee this since it will depend also on the individual GP workload. It is helpful if you don't mind which GP calls you; in this case one of the GPs working that day will call you – they will all have access to your complete medical record.
Since there is now no advantage in calling first thing, hopefully phone calls will be spread more evenly throughout the day. This should make it easier for patients to get through on the telephone and avoid the frustration patients feel at the moment with the queuing system.
Registering for the Online System
The site enables you to request repeat prescriptions, book appointments and change your contact details online. You can also see some elements of your medical records such as immunisations, allergies and medication. This access is due to be increased by 31 March 2016 to include test results and your medical record.
To use this system you need to register with the website:
Register with a letter
You can register by firstly visiting your practice in person and requesting a registration letter which will enable you to set up a full account. This needs to be requested when you visit the practice and will require identification
On the Patient Access homepage, click Register
On the registration screen, tick Yes
Enter the details from the letter, into the correct field (* indicates a required field)
Click Next
Enter your personal details, and create a password(* indicates a required field)
Click Next
Enter your contact details, and security question information (* indicates a required field) Click Next, your User ID will not be displayed and your registration is complete.
Register without a letter
You can also register for the service online without a letter. This process will check to see if your practice uses Patient Access and create a basic account that allows you to book an appointment. If you use this option, to get access to the complete features that your practice offers you will need to visit them in person and take ID with you. (This service is only available in England)
On the Patient Access homepage, click Register
On the Registration screen, tick NO
Enter your GP Practice's postcode, or your own postcode
Click Next
Select your GP practice
Click Next
Enter your personal details, and create a password(* indicates a required field),
Click Next
Enter your contact details, and security question information (* indicates a required field)
Click Next, your User ID will not be displayed and your registration is complete.
In view of this greater access and to protect your data we will ask you to provide photo identification when you collect your log-in details. We apologise for any inconvenience this might cause but hope you will understand the reason.
The system is designed this way as the website allows access to your contact details and repeat prescription information which need to be kept secure.
Home Visits
A home visit by a doctor or a specialist paramedic is available for patients who need to be seen and are too ill to attend the surgery in person. A visit can be requested by telephoning the surgery before 10:00am.
A doctor will always ring first to assess the suitability of the request. As facilities at the surgery for examination and treatment are so much more comprehensive, it is in your best interest to attend for an appointment rather than requesting a home visit. A doctor can also see four to six patients in the surgery in the same time required for a visit.
Home visits are usually undertaken by our attached specialist paramedic.
Cancellations & Reminders
Cancel an Appointment
It is important that you inform the reception staff if you are unable to attend your appointment, this will allow that appointment to be offered to another patient. If you fail to notify the Practice that you are unable to attend, you will be sent a letter informing you that you have defaulted from your appointment. Persistent defaulters maybe removed from the list.
You can also complete our appointment cancellation notification request form. This can only be used if your appointment has been arranged for more than 24 hours in advance. (excluding weekends and public holidays). You can also text to cancel your appointment.
Text Reminder Service
We have a texting service which allows you to receive confirmation and reminders about your appointments.
To have this service you will need to register by completing a consent form.
Please remember to update your contact details with us when you change address, telephone numbers and email address.
Late For Your Appointment
Please attend your appointment on time, if you are late you may not be seen.
Interpreter
If you require an interpreter to attend with you when you see your Doctor please notify the receptionist and she will arrange this for you.
We are fortunate to have Dr Kaiser Munir who is fluent in British Sign Language.
NON NHS
Insureance reports/medical forms are non-NHS work and therefore will attract a charge. Due to the current pandemic some forms may take up to 10 weeks to be completed.