Armed Forces Veteran Friendly Accredited GP Practice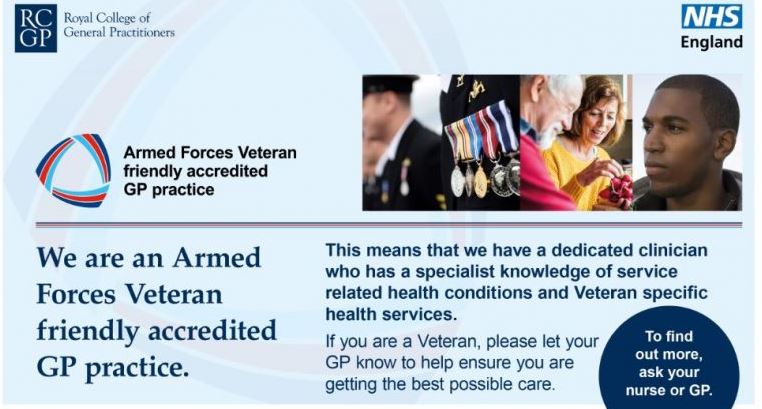 Information for Veterans
Please let Reception know if you have served in any of the Armed Forces - it is helpful to know:
Which Service
Service number
Any service related medical issues
There are various support agencies for Veterans, a few are listed below:
What is the Armed Forces Covenant?
To those who proudly protect our nation, who do so with honour, courage, and commitment, the Armed Forces Covenant is the nation's commitment to you.
It is a pledge that together we acknowledge and understand that those who serve or who have served in the armed forces, and their families, should be treated with fairness and respect in the communities, economy and society they serve with their lives.
https://www.armedforcescovenant.gov.uk/
The NHS can also provide mental health support through the Big White Wall service http://register.bigwhitewall.com
This service is available for free to serving personnel, veterans and their families.
Royal British Legion
National Freephone number 0808 802 8080 8am-8pm 7 days a week
http://www.britishlegion.org.uk/
The Veterans Hearing Fund provides support to veterans who acquired hearing loss during service. http://support.britishlegion.org.uk/app/answers/detail/a_id/1633/~/veterans-hearing-fund
Royal Naval Benevolent Trust
The RNBT Headquarters, Castaway House, 311 Twyford Avenue, PORTSMOUTH PO2 8RN
T: 02392 690112
The Trust's offices in Portsmouth are normally manned Monday to Friday from 0900 to 1600.
ABF The Soldiers' Charity
Mountbarrow House, 6-20 Elizabeth Street, London, SW1W 9RB
Tel: 0207 901 8900 Fax: 0207 901 8901
https://www.soldierscharity.org
Royal Air Force Benevolent Fund
67 Portland Place, London, W1B 1AR
Tel: 02075808343
Veterans UK Welfare Service
Information on claiming AFCS, Armed Forces Independence Payment, Medical Discharges and Pension.
Tel: 08081 914 218
Veterans Gateway
08088021212 – 24 hours a day 7 days a week
Help for Heroes
Unit 14 Parkers Close, Downton Business Centre, Salisbury, Wiltshire, SP5 3RB
To Get Support call your nearest Recovery Centre
North: Phoenix House, Catterick 01748 834148
West: Plymouth Recovery Centre 01752 562179
East: Chavasse VC House, Colchester 01206 814880
South: Tedworth House, Tidworth 01980 844200
http://www.helpforheroes.org.uk/get-support/
SSAFA
4 St Dunstan's Hill, London, EC3R 8AD
Tel: 0800 731 4880
9.00 to 17.30 every weekday
https://www.ssafa.org.uk/help-you/veterans
Blesma, The Limbless Veterans
Frankland Moore House, 185-187 High Road, Chadwell Heath, Romford, Essex. RM6 6NA
T: 020 8590 1124 Email: ChadwellHeath@blesma.org
Blind Veterans UK
12-14 Harcourt Street, London, W1H 4HD
Phone: 020 7723 5021
https://www.blindveterans.org.uk/
Combat Stress
Tyrwhitt House, Oaklawn Road, Leatherhead, Surrey KT22 0BX
Helpline 0800 138 1619
mailto: contactus@combatstress.org.uk
http://www.combatstress.org.uk/
How to access the Transition, Intervention and Liaison (TIL) mental health service
How to access the Transition, Intervention and Liaison (TIL) mental health service